Latest News
18 Jan 2016 / CodaSiren
First of all, we wish you all a wonderful 2016. 2015 has treated us well. Thanks to advice from Startup Bootcamp and Holland Fintech we have slowly been growing. We welcome new team members Sergey Kazenyuk and Steffen Hoffmann and thank them for their contributions to the client! The SIDN foundation has been very supportive as a partner as well, in addition to their support via the grant we were awarded in August.

As a decentral open source collective, it is good to have a stable foundation where upon each of our contributors can build freely. For development, these are the internal Git and testnodes, which provide means to an end. Regarding other areas a solid basis is required as well. For this, we got in touch with the Dutch NLnet Foundation.

Michiel Leenaars, Director of Strategy at NLnet:
"Digital payment systems and the internet are a great match, but we are at an early stage. There is a lot of experimenting that needs to be done before we can ultimately converge and find the solutions that will scale to the whole Internet. The Internet of Coins is an ambitious open source project, and full of promising ideas. We are looking forward to working with the team to mature their technology."

The NLnet Foundation used to be the first Internet provider of the Netherlands and has supported numerous projects with advice, contacts or funding. Among them you may recognize the Tor project, NoScript extension or WebODF library. Yes, they're cool. And from now on, they will be advising us on shaping and developing the Internet of Coins project further.

In other news: the recent Cryptsy hack again underlines the need for a stable, non-commercial decentralized exchange system. You can find a good read here about how the hack took place.
25 Aug 2015 / CodaSiren
Since our previous update before summer, we have been focusing on securing funding for continuous development. Today, we learned our efforts bear fruit. As of the 25th of August, the Stichting Internet Domeinregistratie Nederland (SIDN, or Foundation for Internet Domain Registration Netherlands) announced their support for development of the Internet of Coins, and awarded us with a Pioneer grant!
SIDN operates as registry for second level domain names in the Netherlands. Its foundation supports innovative projects which inspire an open and free use of Internet. We are very pleased with their support and will continue to cooperate as the project evolves. Part of the money will be used for coding bounties.

During our quest for angels, someone asked us "Why aren't you doing a digital ITO or IPO to acquire funding?"
Of course we would not be the first project. But let's be clear on this. We do not want you as a consumer to spend your cash on a project which is still in development. And like any startup, we are working with pivoting goals between timeboxes. So we aim to secure development 'the old-fashioned way'. Try out our client once there is a beta.

As part of this strategy, we have decided to separate the Internet of Coins project from our smart contracting agency Metasync, so it becomes its own entity as a non-profit foundation. Stay tuned for more info, or get in touch.
22 May 2015 / CodaSiren
Pizza day is upon us! It has been a while since our last update. In the meantime we have seen a strong decline of the Bitcoin price, mining organisations going bust, and other initiatives consolidating their efforts to stay relevant in the cryptosphere. Also there is good news when looking at the adoption of Bitcoin and cryptocurrency concepts by businesses in general.
Meanwhile, we have been working on building hybridd, the client/server node for IoC. The skeleton of the node has been written and is now in alpha-testing. It is a modular construction that makes it possible to tie in any kind of value-related functionality. We have created some proof-of-concept modules to start filling in the blanks.
The daemon currently starts via an init and starts the main processing engine. After that the modules are fired up. They subsequently start processes that give data results which are made available to the system and via the standard REST API of the node. Terminal screenshots show how this looks. These are some of the modules that have been created:
- altcoin This module supports any Bitcoin-derived cryptocurrency, as well as Bitcoin itself. It connects directly to a cryptocurrency node, and makes available standard instructions to be able to control a wallet.
- counterparty This module ties into Counterparty on the RPC and block level, and makes it possible to control its wallet, assets and symbol functions, It can also connect to any Counterparty based spinoff crypto-systems.
- nxtplatform As its name suggests, this module supports the NXT based crypto-platforms, its asset system and messaging. Still a work in progress, and by no means feature complete.
We are continuing our work on the skeleton system until it enters beta phase. From there we will start working together with other developers to solidify the structure of hybridd, and to encourage further open development. If you would like to take part in this process as soon as we go beta let us know!
23 Mar 2015 / CodaSiren
Time for an update! Where to begin... since the whitepaper release at the Dutch Bitcoin Embassy on the sixth birthday of the blockchain back in January, we've had a surge in media attention; for example via Yahoo! and a CoinTelegraph interview. After the announcement and the followup, our focus shifted back to development.
Joachim will provide a blogpost in the upcoming weeks to give a technological update, but I can say the API is looking very sturdy, yet still userfriendly. In the meantime, take a look at the video below, which I posted some time ago via Twitter. It regards the future of digital currencies after mainstream adoption, and coincides with our longterm expectations. This is one of the reasons we started building of an interconnecting client for value transactions:
Next week we intend to discuss our vision with Andreas Antonopoulos, when he visits Amsterdam. [As long the announcement is not an April Fool's stunt of course...] We also wanted to let you know we have been in touch with an incubator and recently signed up for a startup competition in The Netherlands. More on that next time!
16 Dec 2014 / CodaSiren
Heads up! Since our last post we have worked hard on our whitepaper and the decentralized alpha. We will make sure to upload samples to our GitHub before and during the launch period to provide everyone further insight into the project. In the meantime we have been introducing Internet of Coins to the world.
We were invited by BitKassa to explain the workings of our system at the Arnhem Bitcoin City event at the end of November. The night was fun and it was good to see so many diverse crypto-enthusiasts. A report of the event can be found at BitPost, including an interview with us. During that week, lead developer Joachim was also interviewed at talkshow 'The week of Bitcoin'. You can watch the (Dutch) vodcast here.
After another visit to one of our regular Amsterdam meetups we decided to go virtual at the Crypto Money Expo. We had a few laughs with visitors at our booth and received positive feedback from the viewers at the online Q&A presentation. Good to see one of our supporters from NXT as well. All in all a good test for our visit to the Virtual Bitcoin Expo in January.
During our visit to Brussels in October we got in touch with regulars from the Gent Bitcoin Meetup. I paid them a visit the 6th of December and Internet of Coins actually became the first presentation at this amusing Flemish gathering. The Belgian beers were a delight! Kudos to the guys from Anycoin Direct for sharing a ride back to the Netherlands.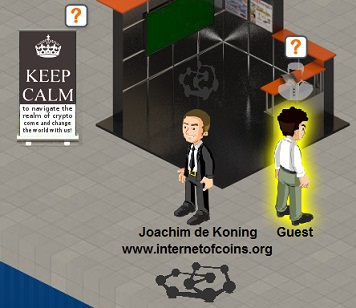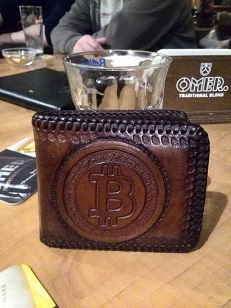 Between the work we've read up on current developments. Next to OpenBazaar we are pleased to see other decentralized open source initiatives such as Bitmarkets emerge as an option to exchange goods and services. Just like Bitmarkets, our client will natively support anonymous usage via networks such as Tor or I2P.
As you may notice we have been quite busy, with more conferences coming up in Germany and the United Kingdom. I am glad to announce that our next blogpost will include... (insert drumroll) the whitepaper. Stay tuned!
begin
...
prev
3
4
5
6
7
8
9
10
11
next
...
end